About Bryan
---

I used to live in Columbus, Ohio. Click the picture to see what the weather is currently like. I used to work approximately where the < is in the picture, the 23rd floor of the Riffe Center for the Arts and Government. I don't work there anymore! My former office was actually on the opposite side of the building.
(the following is not necessarily to be construed as 100% correct about the state, but is as correct as I am able to express it. Take that you lawyer types....)
I used to work for the State of Ohio, Department of Commerce in the Division of Liquor Control. I was the Network Administrator. Same thing I used to do, except now I do for a few less people. The Department of Commerce currently consists of 8 Divisions. I used to work in the Division of Administration, which is the umbrella support division for the rest of Commerce. Basically Commerce regulates state chartered financial institutions (Anybody remember Home State?), real estate brokers, securities brokers, securities issued in Ohio, private investigators, security guards, pawn shops, unclaimed funds (ever wonder what happens when you leave your savings account alone for 5 years? We get it!), and the Ohio State Fire Marshal is under us as a division. We have added Industrial Relations and parts of the Department of Health to become the Division of Industrial Compliance. They got the Department of Liquor Control as a division July 1st, 1997. Rumors are that they will swallowing other departments later.
Didn't happen!
A relevant quote, that I probably should print up big and put in my office:
"Whenever you have an efficient government, you have a dictatorship." - Harry S. Truman
---
I recently got married and have moved in with my new wife and her 4 kids, in Jacksonville, FL. I am currently looking for work in the Jacksonville, FL area

Click here for Bryan's resume!

I'm your typical white male overweight geek. I've still got all of my hair, and it's not even starting to turn gray yet. I think I'm the envy of some of my friends because of that. I'm married. I'm currently driving an '06 Hyundai Sonata, 6 cylinder, 5 speed automatic. I live in a four bedroom house, with the formal living room used as the computer room. I used to run a BBS, but you'll have to go to the Hot Pages! to read about that.
---
Current e-mail addresses. (Active on the Internet(s) since at least 1992!
bytehead@infinet.com
Columbus Internet provider (Internet Home)
cmhbytehead [at] comcast.net
Jacksonville Internet provider (Internet Home)
bytehead [at] bytehead.org
Weblog site email
bytehead [at] technologist.com
Mail forwarder (Currently to the comcast address)
bytehead [at] gmail [dot] com
me [at] bryanlprice [dot] com
Latest and greatest email

bytehead [at] bluemoon.rn.com

Old BBS. This address still gets spam addressed to it!
Old and not so dead
bprice@freenet.columbus.oh.us
Columbus Freenet
Old and dead
Bryan.Price@f250.n226.z1.fidonet.org
My BBS
Old and dead
Bryan.Price@ccscmh.org
Columbus Computer Society (Member)
Old and dead
---
Other boring information on myself.
My Meyers-Briggs personality type is INTP. One look at my old apartment and that is very much apparent. I do follow the traits for that personality type very closely. The apartment used to be a mess, but I'm in good company. Socrates, Albert Einstein and Midori Ito. Then again, I'm lumped in with Gerald Ford. I guess it could be worse. It could be Nixon! At least I haven't hit anybody playing golf!
Then again, I don't play golf......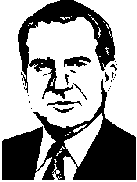 This picture is left to bother certain friends of mine
Both parents have passed away, and I'm the only child. I have a half sister living in California from my mom's first marriage. She's 16 years older than I am. I have a half brother living in Merrilville, Indiana from my dad's first marriage. He's 4 years older than I am. I have various nieces and nephews from these two. The oldest niece is three years younger than me, and I'm a great uncle as we speak. My dad remarried after my parents divorced, and my step mother lives in Paris, Illinois. My parents divorced after 26 years, which, even in my advanced decrepit age, I still find amazing.
Bryan's cool (but still boring) stuff.
My best friend is Chuck Walton. He doesn't have a web page, but the company he works for does.

TASC.
Another good friend of mine who has reminded me that I have been remiss is David Powell. Or page him here. There is also the self appointed bitch, which has turned herself into my new wife. Becky Harling
It's getting to the point that my family is getting on the internet. Say hello to my step sisters Debbie and Darla. Here is my nephew Rick who hasn't given me his e-mail address yet.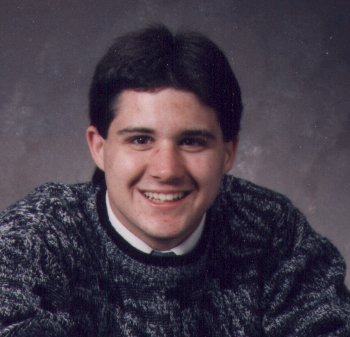 My nephew Rick
---
Guess who got a scanner working!


Other good friends are Mike DeJulio, Marshall Henderson, a lost friend that I managed to find via the Internet (see story below),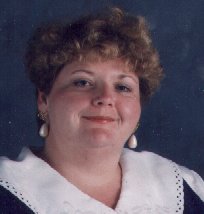 Karen
---
Karen Cox (How could I ever forget Karen?), Ron Hopson, Lynn Bowie, Gina Recinella, Ken Hagy and Phil Loaiza. They go to their web page if they have one, else direct e-mail. I'm also an uncle to Tony the cat. As soon as Karen gets a picture digitized or she gives me one to digitize, I'll put it up. You can click on the names that are highlighted and tell them hi! for me. I used to work with Dr. Ijoma Flemister Bill Calderone, Jeff Pierce, and Beverly Burkhart. Teresa Philbrick is the AS/400 supervisor. I have another friend, but I'm not allowed to tell who he is. Hi Xxxx!

Too damn many AOL'ers it seems!

I was looking for an old friend named Marshall Henderson. This red-headed MBA banker type who graduated from Indiana University had relocated to a different town in NC. He found my web pages and found out himself that I was looking for him. We have now traded e-mails as well as voice calls and are trying to catch up. So there is something to this web publishing after all.

Click here to visit my Hot Links!
Give me some


Click here to go back to Bryan's home page.


Bryan Price / me@bryanlprice.com / Last modified 3/05